Uso de aplicaciones móviles como herramienta de apoyo tecnológico para la enseñanza con metodología steam
Palabras clave:
Aplicaciones móviles, aprendizaje, enseñanza, estudiante, profesor.
Resumen
En este documento se demuestra de forma práctica como las aplicaciones móviles pueden ser consideradas como una gran herramienta, en la enseñanza de diversas áreas en básica primaria como son: matemáticas, inglés, sociales, español, entre otras. Es importante anotar cómo los docentes pueden apoyar sus procesos de enseñanza, a través del uso de dispositivos móviles, en los cuales se instalan aplicaciones sencillas de usar para los estudiantes, de fácil entendimiento y manejo. Particularmente aplicaciones como SAIA v1.0, GROBOT v1.0, STEAM MATH v1.0 y STUDENT STEAM v 1.0 que han sido diseñadas a la medida y puestas a disposición de instituciones de básica primaria, con la finalidad de apoyar sus procesos, obteniendo excelentes resultados, representando para ellos herramientas prácticas, de liviana portabilidad y de fácil manipulación, pero sobre todo son aplicaciones que permiten afianzar los conocimientos adquiridos sin la presencia del docente.
Educational mobile applications have gained strength in the teaching and learning processes, for this reason, the objective of this paper is to demonstrate how these mobile applications can be considered a great tool in teaching using steam methodology. The paper has a descriptive character, considering the way in which the different forms of learning are supported by mobile devices and are becoming new teaching models. The topics addressed, the services received, the content exposed, among others, are analyzed. The results show a positive impact after the use of the applications on the performance, motivation, attitude and interest in learning of the students in the topics developed, as well as the satisfaction of the teachers for the support of the mobile applications in their work, and how the applications allow reinforcing the knowledge acquired without the presence of the teacher.
Métricas de Artículo
|Resumen : 339 | PDF : 179 | HTML : 99 |
Citas
D. Madrid Vivar, M. Mayorga Fernández, and F. Núñez Avilés, "Aplicación del m-learning en el aula de primaria: Experiencia práctica y propuesta de formación para docentes," Edutec. Rev. Electrónica Tecnol. Educ., no. 45, p. a246, 2013, doi: 10.21556/edutec.2013.45.27.
M. del R. Rodríguez-Cubillo, H. Del Castillo, and B. Arteaga Martínez, "El uso de aplicaciones móviles en el aprendizaje de las matemáticas: una revisión sistemática," Rev. la Fac. Educ. Albacete, vol. 36, no. 1, pp. 17–34, 2021, doi: 10.18239/ensayos.v36i1.2631.
P. Muñoz, "Gardner : La enseñanza a partir de las inteligencias," CDL, vol. JUNIO 2011, pp. 1–4, 2011, [Online]. Available: https://redined.mecd.gob.es/xmlui/handle/11162/37735
D. Vaillant, E. Rodriguez Zidán, and G. Bentancor Biagas, "Uso de plataformas y herramientas digitales para la Enseñanza de la Matemática," Ens. aval. pol. públ. Educ., Rio Janeiro, vol. 28, no. 108, pp. 718–740, 2020, doi: 10.1590/S0104-40362020002802241.
F. Becerra Muñoz and D. H. Torres Ordoñez, "USO DE APLICACIONES MÓVILES PARA EL FORTALECIMIENTO DE COMPETENCIAS MATEMÁTICAS DE ESTUDIANTES DE GRADO NOVENO," Universidad Industrial de Santander, 2020. [Online]. Available: https://repositorio.udes.edu.co/handle/001/6342
R. Cobcroft, S. Towers, J. Smith, and A. Bruns, "Mobile learning in review: Opportunities and challenges for learners, teachers, and institutions," Proc. Online Learn. Teach., pp. 21–30, 2006, doi: 10.1097/QAI.0000000000001377.
J. Fombona and P. Roza Martin, "Uso de los dispositivos móviles en educación infantil," Edmetiic. Rev. Educ. Mediática y TIC, vol. 5, no. 2, pp. 158–181, 2016, doi: https://doi.org/10.21071/edmetic.v5i2.5781.
A. Kortabitarte, I. Gillate, U. Luna, and A. Ibañez-Etxeberria, "Las aplicaciones móviles como recursos de apoyo en el aula de Ciencias Sociales: estudio exploratorio con el app 'Architecture gothique/romane' en Educación Secundaria," ENSAYOS, Rev. la Fac. Educ. Albacete, vol. 33, no. 1, pp. 65–79, 2018, [Online]. Available: https://revista.uclm.es/index.php/ensayos/article/view/1743
N. H. Guzmán, "El desarrollo lógico matemático a través del juego, juanto a las tecnologías de la información y la comunicación.," 2020. https://dspace.uib.es/xmlui/bitstream/handle/11201/150953/Hofer_Guzman_Nadine.pdf?sequence=1&isAllowed=y
C. M. Arias Tovar and L. Garcia Mendoza, "LOS JUEGOS DIDÁCTICOS Y SU INFLUENCIA EN EL PENSAMIENTO LÓGICO MATEMÁTICO EN NIÑOS DE PREESCOLAR DE LA INSTITUCIÓN EDUCATIVA EL JARDÍN DE IBAGUÉ – 2015," Universidad Wiener, 2016.
A. Díez Ochoa, R. S. Campión, and F. Navaridas Nalda, "Catalogación y análisis de la calidad de apps para dispositivos móviles: El proyecto Eduapps," Comun. y Pedagog. Nuevas Tecnol. y Recur. didácticos, vol. 259, no. January, pp. 52–58, 2012, [Online]. Available: https://www.researchgate.net/profile/Raul-Campion/publication/300003249_Catalogacion_y_analisis_de_la_calidad_de_apps_para_dispositivos_moviles_el_Proyecto_Eduapps/links/575c3d1608ae414b8e4c198e/Catalogacion-y-analisis-de-la-calidad-de-apps-para-dispositivos-moviles-el-Proyecto-Eduapps.pdf
E. D. Osorio Arascue, J. N. Malpartida Gutiérrez, H. Avila Morales, and A. Valenzuela Muñoz, "Aplicaciones móviles: incorporación en procesos de enseñanza en tiempos de covid-19," Rev. Venez. Gerenc., vol. 26, no. 93, pp. 65–77, 2021, doi: 10.52080/rvg93.06.
A. Piscitelli, "Nativos digitales," Contratexto. Rev. la Fac. Comun., vol. 16, pp. 43–56, 2008, doi: https://doi.org/10.26439/contratexto2008.n016.782.
R. Ovelar Beltrán, M. Benito Gómez, and J. Romo Uriarte, "NATIVOS DIGITALES Y APRENDIZAJE. Una aproximación a la evolución de este concepto," Icono 14. Rev. Comun. y Nuevas Tecnol., vol. 7, no. 1, pp. 31–53, 2009, [Online]. Available: https://www.redalyc.org/articulo.oa?id=552556590003
M. C. Robles Vizcaíno, M. P. Poo Argüelles, and M. Poch Olivé, "Atención temprana: recursos y pautas de intervención en niños de riesgo o con retrasos del desarrollo," Asoc. Española Pediatría., pp. 278–285, 2008, [Online]. Available: https://d1wqtxts1xzle7.cloudfront.net/41488711/37-atenciontemprana-with-cover-page-v2.pdf?Expires=1663824657&Signature=Un7Rg18aTCnccmUZr8N4Vgq2eyFK0wk-w-K3hEJLW9rmMJeYvm9V0dbQyUz6JApwU6GrzycG7Vpo8HJDxZY2BWYWkSMFSKNSTIV9JDNhk1K-UDYxqlv37Q8eE-WYg4iYPOtZda6p1WCT9E6aCY-Q68BRYuC8k9-qwelPmTuup6Mqb8c2vCCDWOvnwijPve0gFeyQUMhKV5baE~eaIDZT~tGuYuTAchPyOrsCHH2L4bg1nukDemxBupfB66YRS3svjt3rVBGqcKc6crvsNJ1XYJj3Ya1lgRpjQOpBrkGrsEehafE~dOenrcdVf-iBh3CVEYV60B9dYHTIzZLWvFHkDg__&Key-Pair-Id=APKAJLOHF5GGSLRBV4ZA
C. Ferrándiz, R. Bermejo, M. Sainz, M. Ferrando, and M. D. Prieto, "Estudio del razonamiento lógico-matemático desde el modelo de las inteligencias múltiples," An. Psicol., vol. 24, no. 2, pp. 213–222, 2008, [Online]. Available: https://revistas.um.es/analesps/article/view/42731
I. Ismail, S. N. Azizan, and T. Gunasegaran, "Mobile learning in Malaysian Universities: Are students ready?," Int. J. Interact. Mob. Technol., vol. 10, no. 3, pp. 17–23, 2016, doi: 10.3991/ijim.v10i3.5316.
K. Al-Mekhlafi, X. Hu, and Z. Zheng, "An Approach to Context-aware Mobile Chinese Language Learning for Foreign Students," in Eighth International Conference on Mobile Business, 2009, pp. 340–346. doi: 10.1109/ICMB.2009.65.
R. M. José Ignacio, J. Manuel, and C. Lovelle, "Metamodelo para la integración de la internet de las cosas y redes sociales," Universidad de Oviedo, 2017. [Online]. Available: https://dialnet.unirioja.es/servlet/dctes?codigo=207406
R. Sanchez Dams and D. D. Sanchez, "Estado del Arte del Desarrollo de Sistemas Embebidos desde una Perspectiva Integrada entre el Hardware y Software," Rev. Colomb. Tecnol. Av., vol. 2, no. 22, pp. 98–105, 2013, [Online]. Available: http://www.unipamplona.edu.co/unipamplona/portalIG/home_40/recursos/04_v19_24/revista_22/09012014/14.pdf
J. G. Fierro Mendoza, J. A. Asato España, J. B. Molina Castro, J. G. Delgado Núñez, and E. Noriega Vaca, "PROPUESTA METODOLÓGICA PARA VALIDAR LA FUNCIONALIDAD DE SOFTWARE EN SISTEMAS EMBEBIDOS," Pist. Educ., vol. 38, no. 122, pp. 156–177, 2016, [Online]. Available: http://www.itcelaya.edu.mx/ojs/index.php/pistas/article/view/689
J. G. Fierro Mendonza, J. A. Asato España, J. B. Molina Castro, J. G. . Delgado Núñez, and E. Noriega Vaca, "Propuesta metodológica para validar la funcionalidad de software en sistemas embebidos," Pist. Educ., vol. 38, no. 156–177, 2016.
S. M. H. and M. R. M.R. Mollahoseini Ardakani, "Adapting the scrum methodology for establishing the dynamic inter-organizational collaboration," J. Organ. Chang. Manag., vol. 31, no. 4, pp. 852–866, 2018.
D. R. Wallace and R. U. Fujii, "Software verification and validation: an overview," IEEE Softw., vol. 6, no. 3, pp. 10–17, 1989.
C. A. Sandoval Casilimas, Investigación cualitativa. 1996. doi: 10.2307/j.ctv1cfthrh.8.
P. C. Martínez Carazo, "El método de estudio de caso: Estrategia metodológica de la investigación científica," Pensam. y gestión Rev. la Div. Ciencias Adm. la Univ. del Norte, vol. 20, no. Julio 2006, pp. 165–193, 2006, doi: 10.1055/s-0029-1217568.
D. Cortez Ocampo, "El Uso Del M-Learning Para La Enseñanza-Aprendizaje En Primaria," Rev. Atlante, vol. Febrero, pp. 1–7, 2019, [Online]. Available: https://www.eumed.net/rev/atlante/2019/02/mlearning-primaria.html
C. Villalonga Gómez and C. Marta Lazo, "Modelo de integración educomunicativa de 'apps' móviles para la enseñanza y aprendizaje," Píxel-Bit, Rev. Medios y Educ., no. 46, pp. 137–153, 2014, doi: 10.12795/pixelbit.2015.i46.09.
M. Vacas Criado, "APRENDER SE ESCRIBE CON APP. UNA REVISIÓN DE LA LITERATURA SOBRE EL USO DE APLICACIONES MÓVILES EN EL AULA DE PRIMARIA," Universidad de Salamanca, 2017. [Online]. Available: https://redined.educacion.gob.es/xmlui/handle/11162/185527
D. T. Chalarca, "Teaching Mathematics to People with Down Syndrome Using Mobile Devices," Rev. Electron. Investig. Educ., vol. 20, no. 4, pp. 144–153, 2018, [Online]. Available: http://www.scielo.org.mx/pdf/redie/v20n4/1607-4041-redie-20-04-144.pdf
K. P. Alba Farinango and T. R. M. Estefnía, "Estudio del uso de aplicaciones interactivas en dispositivos móviles para el proceso de enseñanza-aprendizaje de la matemática en los colegios públicos y privados de la provincia de Pichincha," 2016.
A. Rodriguez Zambrano, E. R. Rey, V. Zambrano Cedeño, and G. Rodriguez Arieta, "TICS Y APLICACIONES MÓVILES EN LA EDUCACIÓN SUPERIOR; DEL DICHO AL RETO," Rev. Atlante, no. January, pp. 2–17, 2019, [Online]. Available: https://www.eumed.net/rev/atlante/2019/01/tics-educacion-superior.html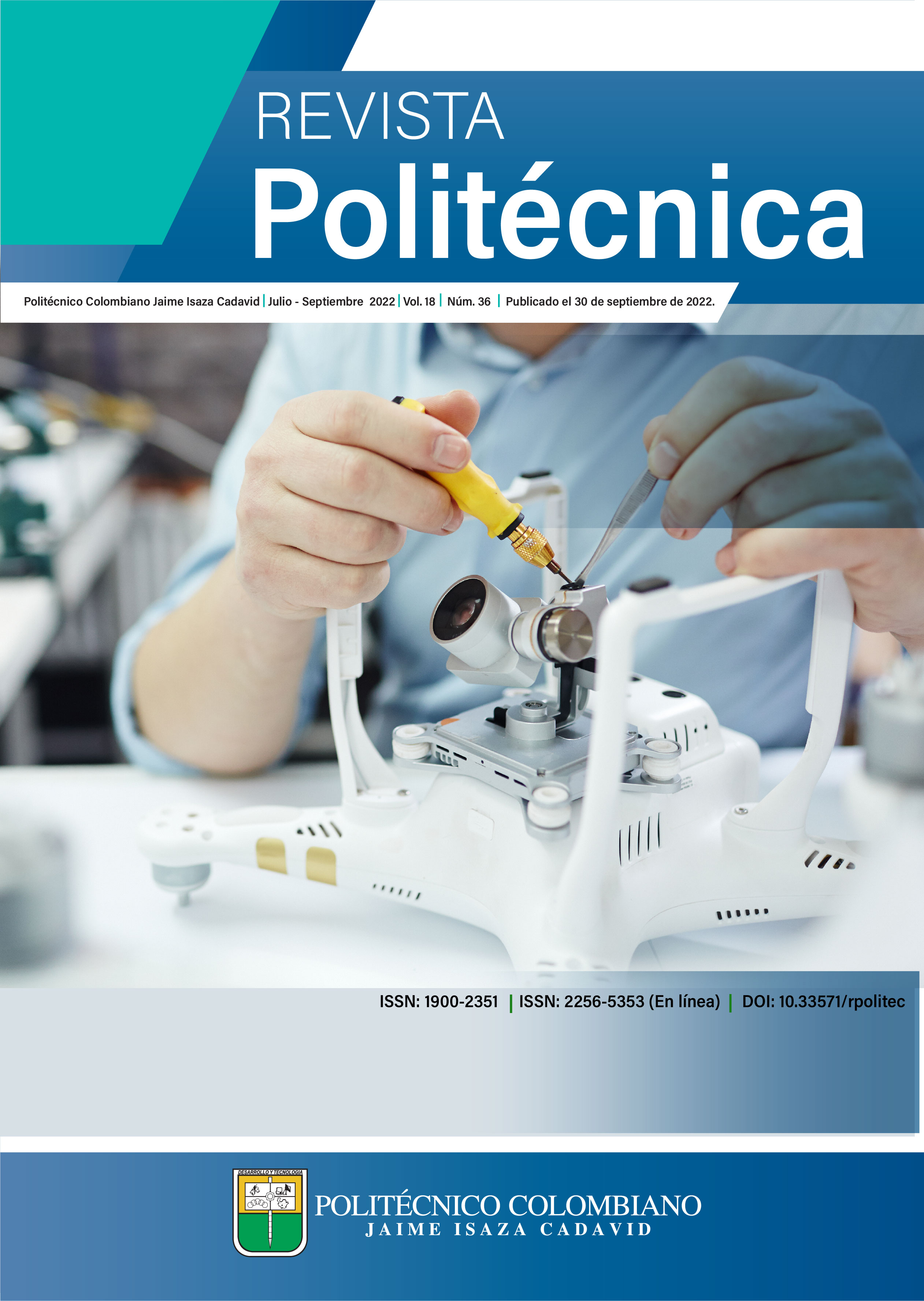 Cómo citar
Martinez-Baquero, J. E., & Rodríguez-Umaña, L. A. (2022). Uso de aplicaciones móviles como herramienta de apoyo tecnológico para la enseñanza con metodología steam. Revista Politécnica, 18(36), 75–90. https://doi.org/10.33571/rpolitec.v18n36a6
Licencia

Esta obra está bajo licencia internacional Creative Commons Reconocimiento-NoComercial-CompartirIgual 4.0.